One of the country's top corporate coaches and author of "The Office Survival Guide" gives counsel to graduates seeking or entering their first "real" job; turns out her advice is also applicable to just about anyone who works …
xxx
INTO THE WORK FORCE
College is a meritocracy; your job is and it isn't
As a college student, you work hard and achieve high performance. You get a grade that generally reflects your performance accurately, and your performance is your achievement. What MOST young people do when they start their first job is to carry with them that same paradigm, i.e. work is a meritocracy and those that work the hardest and achieve the most will get ahead. The truth is, this might play out while you're in the lower levels, but maybe a year later after proving yourself with hard work, you'll be reassessed. At that point, the question will be whether or not you fit into the corporation in terms of advancement. A whole new criteria will come into play.
There's a new criteria
Suddenly, you're being judged on a whole new set of rules — some of it cosmetic and the other related to how you behave. Your appearance and style; the way you dress; how you handle yourself — does it "fit" within the corporate or organizational culture? For example, a financial firm may be more formal; an advertising agency more casual. Some companies are team/consensus-oriented and others are individualistic and aggressive. Who are you?
Everyone who comes into the work force has their own personal temperament. If you an aggressive individual and have a job in a team oriented conservative culture, you're not going to do well – even if you perform well. The key is in finding the culture and environment that matches who you are and where you'd like to go. You need to find a match.
What's "right" … What's "wrong"
When young people start a job in an organization larger than three people, a "match" isn't so important if you just want to get your feet wet and are use the experience to learn or as a transition. But if you think you want to build a career in that organization, then, you really need to do an exploration as to whether the organization is a fit. Here are some questions to ask yourself. There are no "right" answers, and there may be others you should add (or subtract) that are more important to you. What's "right" is how the answers "feel" to you:
How do they dress?
What is the corporate culture?
Are they rigid, i.e. an 8 – 7 job without flexibility or balance?
Do they have a commitment to family life and an awareness of a young family?
Can I work at home one day a week?
Does my specific job require me to be outgoing when I'm more comfortable keeping to myself?
Add your own thoughtful relevant questions here …
How do you find out for real about a place?
Here are ways to find out about a specific organization:
Ask people
Look at clippings about the organization
Google
When you're on that first interview, walk the halls, be observant and see what you can tell; if it's possible try to have lunch in the company cafeteria
Talk to people who have worked there and ask appropriate diplomatic questions.
You've taken the job … now what?
Every work situation has challenging situations, and you need to be prepared. How do you handle a mean angry boss? What if a co-worker steals your ideas? Should you ever go above your immediate supervisor? For those types of situations, it's great if you have a mentor or someone you respect to advise you. If you don't, use Amazon or walk into your local bookstore where you'll find useful "in-the-know" books. There's mine, "The Office Survival Guide," or get advice from others like the President of Hearst Magazines Cathie Black's "Basic Black".
Read these books as "pre-emptive guides," and you'll save yourself from some baffling moments as well as from shooting yourself in the foot,
Marilyn-Puder York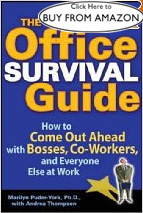 About Dr. Marilyn Puder-York
www.marilynpuder-york.com
Marilyn's one of the pioneers in applying clinical psychology to executive careers. Focusing on behavior in the workplace, she's helped am impressive list of high-powered executives to: maintain resiliency through dramatic upheavals; adjust habits and behaviors; enhance communication, interpersonal and self-management skills; and identify and manage internal barriers it achieve superior performance. She's presented to numerous associations and frequently interviewed and cited i.e. The Wall Street Journal, Fortune, Business Week, The New York Times, CNN,CBS, NBC and Fox. Her publication topics have included ethical issues in executive coaching, managing difficult customers and clients, and the psychology of success. Her first book, "The Office Survival Guide," is published by McGraw-Hill.