We are all so blessed and have so much stuff (yes, even in this economy).  Tell your kids to show their appreciation for you by sending "gift" for other moms that will be, literally, family-saving …
Women for Afghan Women, www.womenforafghanwomen.org — If you've been reading about the new Afghan constitution, you know that women in that country are now required by law to provide sex upon demand to their husbands as well as get their permission to leave home or get an education.  These women need our help more than ever! This is a New York area organization made up of Afghan and non-Afghan women that creates safe forums for networking in Afghanistan, develops programs to meet specific needs, and participates in human rights advocacy. They raises funds for schools and health facilities and support the development of vocational training programs; they advocate for the representation of women in all areas of life in Afghanistan: political, social, cultural and economic. Donate here.
Women for Women International is offering a unique way to show you care — by caring for another mom, often from a war-torn zone, who needs your help.  To help, send a mother's day card  or send a donation in the name of a mom you love, and she'll receive a handmade card crafted by Rwandan women (or you can opt for the e-card instead). This was started by a truly unique Iraqi woman, whose flourishing organization is now primarily in the countries of: Afghanistan, Bosnia and Herzegovina, Democratic Republic of the Congo, Iraq, Kosovo, Nigeria, Rwanda, and Sudan.
kiva.org – We've talked about Kiva before.  Love this organization because they give micro-loans to help people who want economic independence and an improved life for themselves, their family and their community. You choose who via the profiles that the site provides. (We tend to go for the moms.) Throughout the course of the loan (usually 6-12 months), you can receive email journal updates and track repayments. Then, when you get your loan money back, you can re-lend to someone else on Kiva who is in need.  In other words, the same money keeps working over and over again.  Purchase a gift certificate for Mother's Day; my son gave me one a couple of years ago, and it's still active and appreciated (by me and the moms who receive its benefits).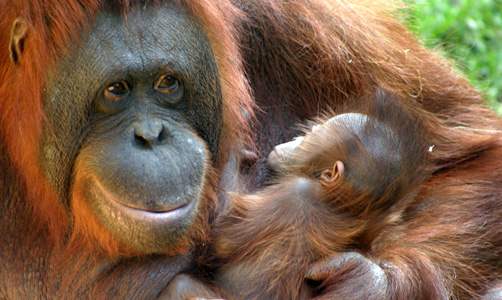 Orangutan outreach, www.redapes.org –– Many don't know that those fabulous apes, Orangutans, are on the endangered species list — families are being split up and many children are orphaned as their habitats are destroyed through deforestation.  Why not let your mom help save them?  Adopt an Orangutan in her name or donate by getting mom a plush Orangutan baby toy (guaranteed to be absolutely lovable).  The many Orangutan orphans could sure use your help!
The Humane Society of the U.S, www.hsus.org –– Mom loves animals of all varieties?  The Humane Society has a whole group of gifts just for her, like:  organic bouquets … magazine subscriptions … fair trade organic coffee … wine … personalized greeting card/gift donation …  a special gift area for Mother's Day …
Changing the Present, www.changingthepresent.org —  This site connects you with more than 1500 meaningful charitable gifts that change the world. You can browse by cause or nonprofit to find the perfect gift for mom.  There is absolutely something on this site that your mom will relate to!
These gifts keep on giving throughout the year … Happy Mother's Day!
Harriett@snoety.com